[Canton] Smart Soundbox 3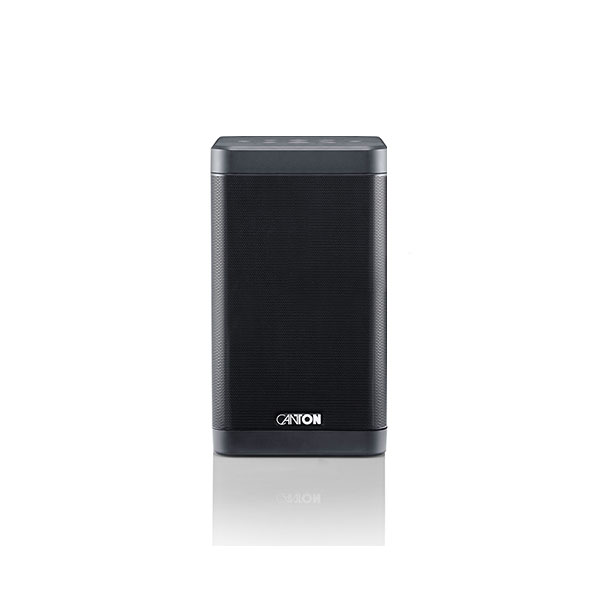 The greatest stereo sound a compact speaker can deliver. For every room.
The small multiroom loudspeaker Smart Soundbox 3 with integrated Chromecast built-in and Spotify Connect, leaves nothing to be desired in terms of sound and plays big. The small, powerful streaming wonder can be easily set up via WiFi with the Google Home App and provides your smart home with music in the best transmission quality. With a system power of 120 watts and versatile connection and application options, the active, smart loudspeaker is up to any room - alone, stereo with a second Soundbox 3 or as part of a larger multi-room set in combination with other models of the Canton Smart series. Once connected to WiFi or Bluetooth®, your favourite music can be distributed throughout the house at the touch of a button.
Outstanding sound quality, now even smarter.
Easily stream music to your speakers with Chromecast built-in. Simply select the cast icon in your favorite music app and start playback from the Smart Soundbox 3. The speakers can be controlled directly from your mobile device, no matter in which room you are at home - all without interrupting your music. You can use your smartphone to make phone calls, play games, send text messages and leave the room at any time during music playback.
Choose your favourite music - by voice command.
In addition to manual operation via app, you can also use your voice to start playback, pause, adjust volume or operate an entire Canton Smart System. Although no microphones are built into the Smart Soundbox 3, it still offers the highest possible compatibility in terms of voice control. There are two ways to operate the Smart Soundbox 3 by voice: Use the Google Assistant within the Google Home App or by voice command in connection with a separate Google Home Mini. This allows you to play your favourite music in any desired room either by pressing a button or by voice.
Multiroom or Singleroom - you decide.
Your favourite song distributed throughout the house as a multi-room solution via Chromecast built-in or as a single room solution per room via internal wireless network - the Canton Smart series opens up many unique connection possibilities. For example, additional Smart speakers can be connected wirelessly to each room via the internal wireless network - whether as a large home cinema set in conjunction with Smart products such as Smart Vento 9, Smart Vento 3 or in combination with our Smart Soundbars, the possibilities are flexible and perfect for every room situation, no matter how difficult.
Simple operation with or without smartphone.
The Smart Soundbox 3 can be controlled via the touch panel's control buttons in a user-friendly way, even without a smartphone, and thus ensures a convenient start to music playback, volume adjustment, play/pause and menu settings. With the 3 preset buttons, your favourite Spotify playlists and sound settings can be set and saved so that your favourites are just one button away. Thanks to the integrated Spotify Connect, the speakers can be controlled quickly and directly via the Spotify App via smartphone, tablet or PC.
Easy setup with the Google Home App for iOS and Android
The free Google Home App for iOS and Android lets you set up and manage your Smart Soundbox 3 from the comfort of your smartphone. The speaker supports both 2.4 GHz and 5 GHz WLAN connections.
Always up to date with the latest software
Once integrated into the home network, the Smart Soundbox 3 is always up to date with automatic software updates.
Music playback via Bluetooth® or 3.5 mm input
Stream music wirelessly from your smartphone/tablet even without a WLAN connection or connect a playback device to the 3.5 mm input.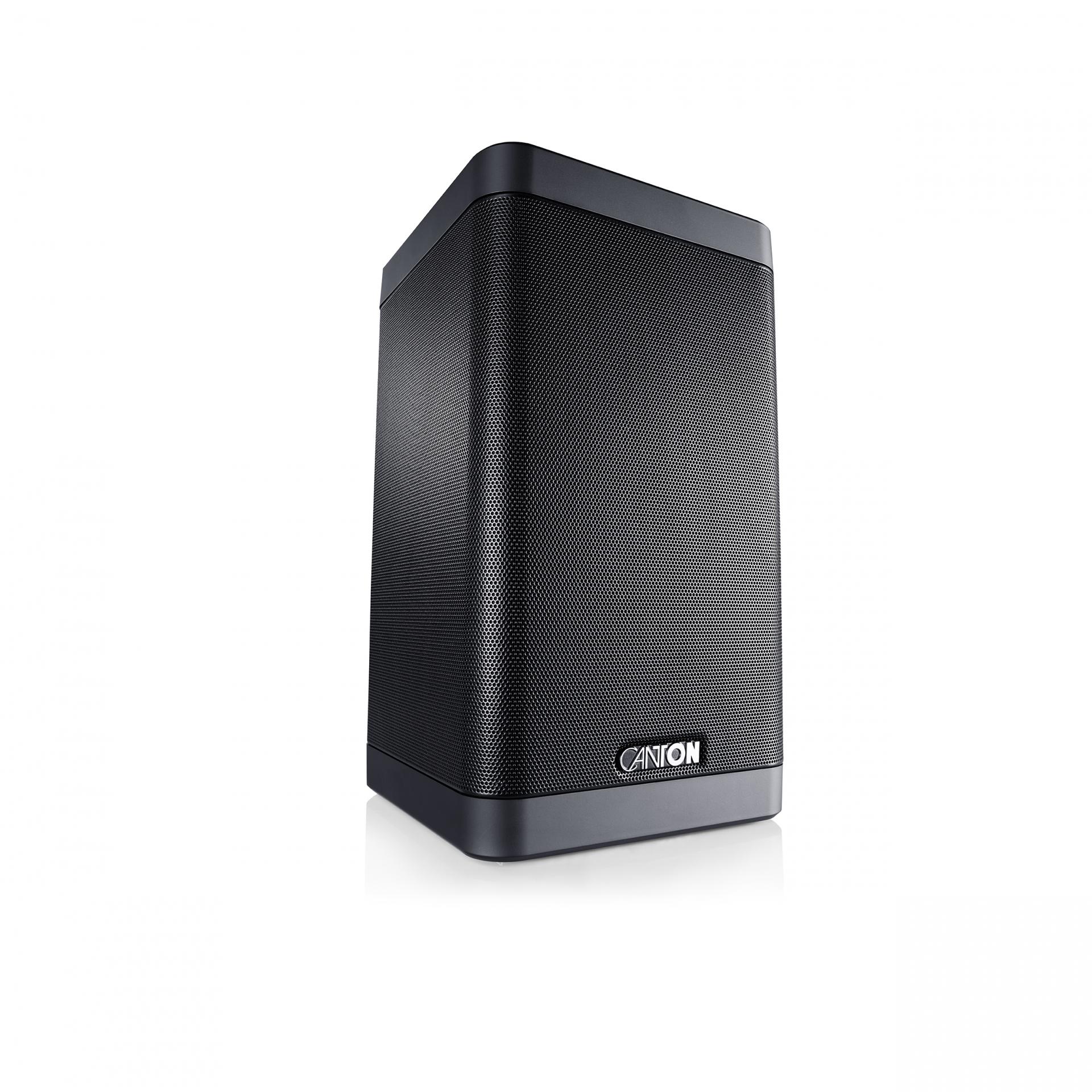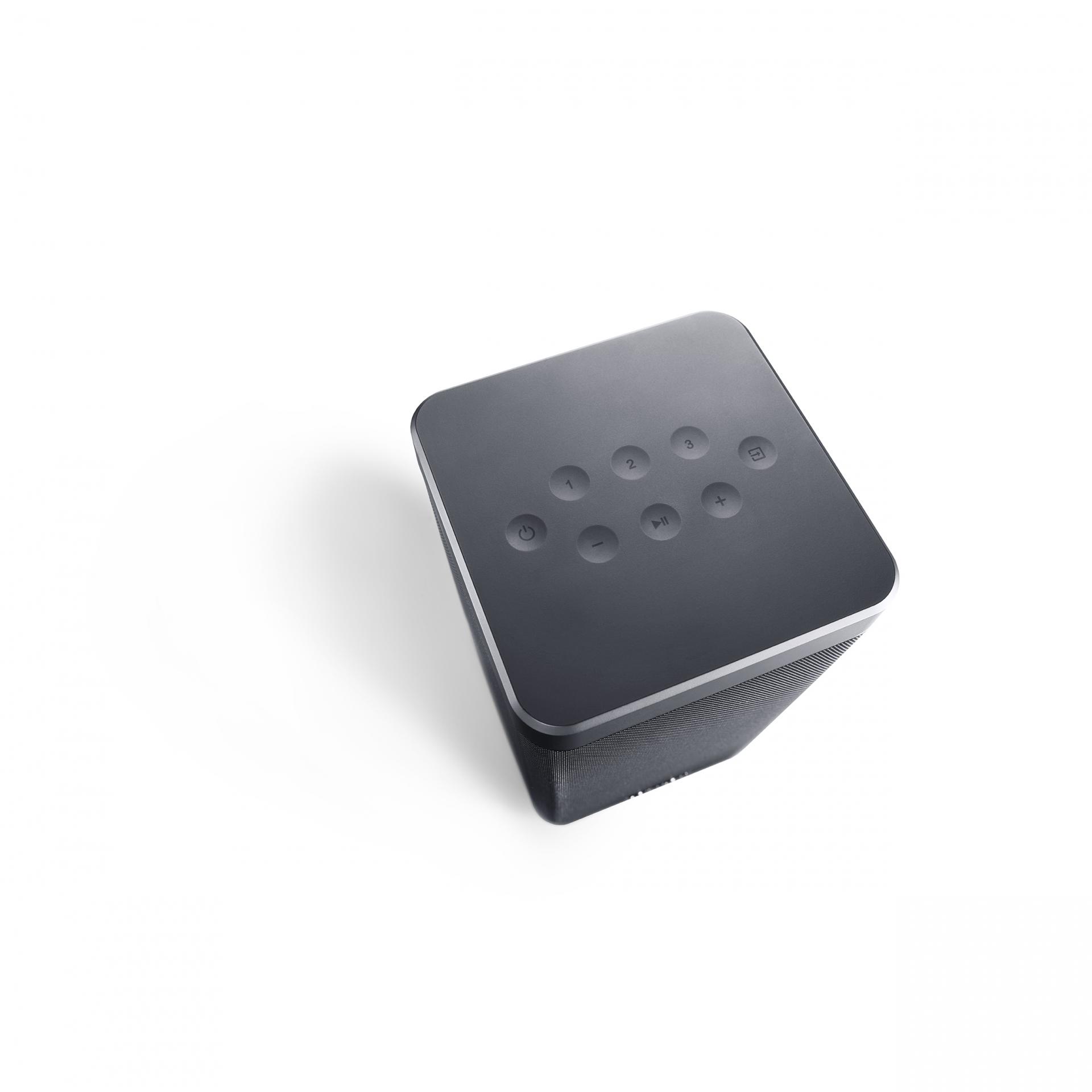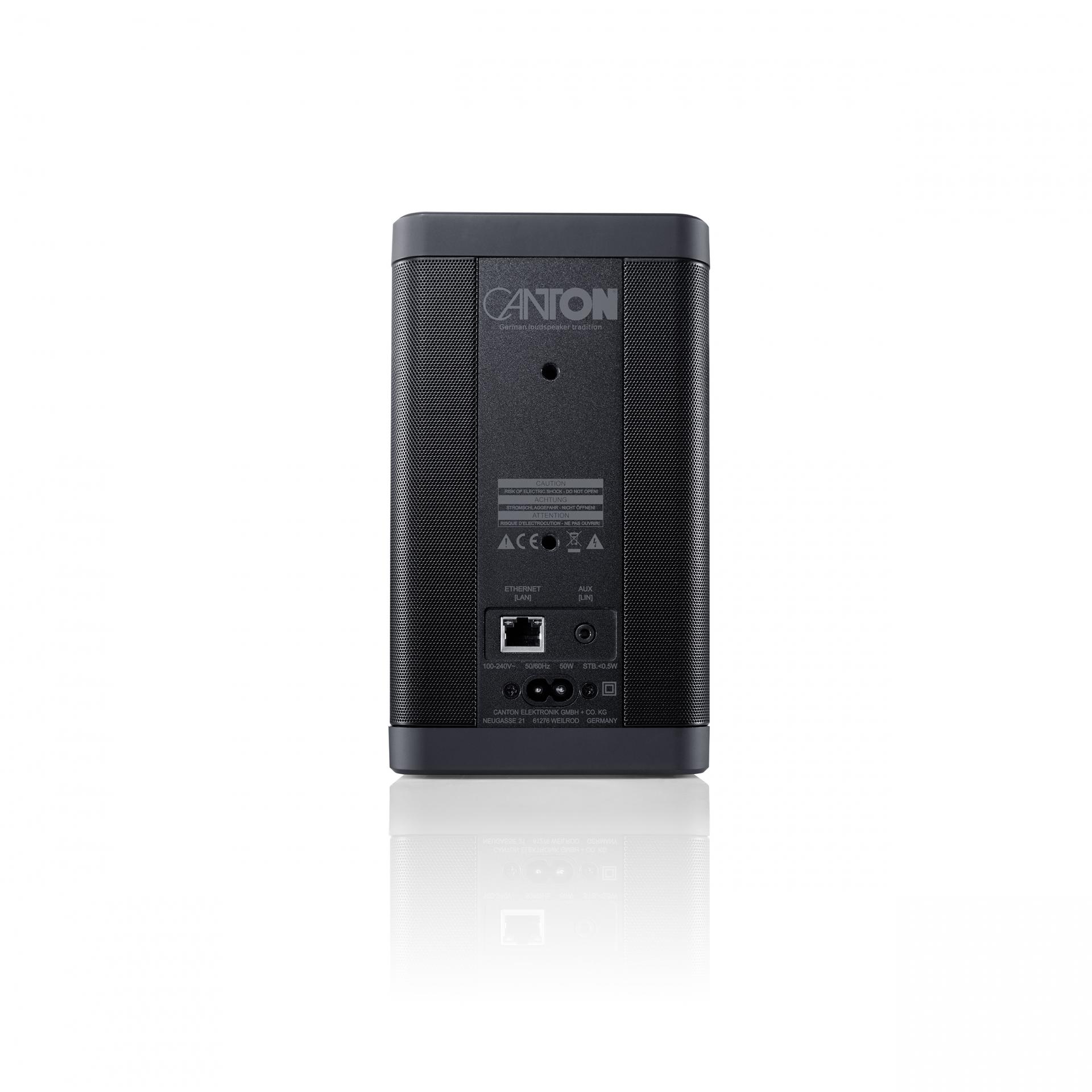 Product Data
Type : Multiroom-speaker
Engineering Principle : Bassreflex with passive membrane
Systempower : 120 Watts
Frequency response : 40...30.000 Hz
Crossover frequency : 3000 Hz
Passive membrane : 2x (100 x 57mm / 3.9" x 2.2"), metal, wave surround
Mid-/Woofersystem : 1x 95mm (3.7"), aluminium
Tweeter : 1x 19mm (0.75"), fabric
Connection
1 x Analog (3.5 mm Stereo jack)
1 x Ethernet (LAN)
Features
"Chromecast built-in for Audio" support
Spotify connect support
Bluetooth® 4.0 interface
WLAN 802.11ac 2.4 /5GHz
Bass, midrange and treble control
LED display in front of housing
Special Features
Easy installation - one cable to the power supply
IR learning function - controllable with TV / system remote control
Automatic switch-on and switch-off
ECO Mode - selectable power saving mode (On/Off)
Bluetooth Select - Selects BT input automatically
IR delete function - simplest deletion of unwanted learning functions
Equalizer - 3 presets for acoustic adjustment
Easy-Pairing - simplest connection with a device
Operation as a stereo pair with a second Soundbox 3 possible
Operation as surround loudspeaker with a Smart Soundbar or Vento9/3 possible
In stereo mode balance can be adjusted
In stereo mode, it is possible to adjust the hearing distance
Voice function for better speech intelligibility
Direct input selection ideal for system remote controls
Sleep Timer
3 preset buttons for direct access to playlists and sound settings
Hotel Mode (maximum system volume)
Auto Play Function - Auto Play for Bluetooth
Playback control of Bluetooth and network sources (play/pause) via touch panel (via optional remote additionally title jump forward and backward)
Restore factory settings
Warranty : 2 years
Dimensions (WxHxD)
12 x 21 x 12 cm
(4.4" x 8.3" x 4.4")
Weight : 2 kg
Power consumption : 0.4 watts
Available accessories
Smart-Remote control
LS 3 speaker stand
Cantomount U
Carton Content
Smart Soundbox 3
Power cord 1.5 m
Short manual
Spotify manual
Packaging : 29 x 16 x 16 cm (11,4" x 6,3" x 6,3")
Weight including packaging : 2,4 kg