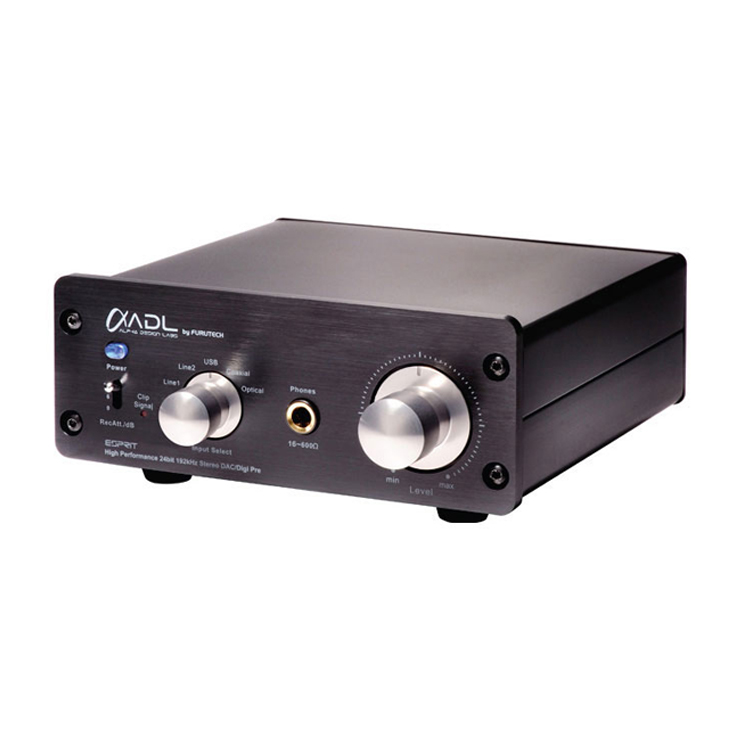 Product Infomation
As the great jazz composer Sun Ra says, "Space is the place," and audio enthusiasts all over the globe know that to be true. Most of us live in tight quarters and there's little room for large, energy-inefficient components. Plus a growing number are using their computers to store and play music. But audiophiles and music lovers still want what they want, better sound and more convenience.
That's why Furutech introduced the well-reviewed GT40 USB DAC/Analog Recorder last year. The GT40 was the stripped-down sports racer of the group and the Esprit is a faster, more luxurious GT model. It's a compact DAC/Preamplifier that can also record and playback from hard disk in both analog and with the Esprit, digital. It even offers a toggle switch to choose Recording Attenuation: dB: 0dB, 6 dB, or 12dB.
The Esprit is designed around a high-performance 24-bit/192kHz Wolfson WM8716 DAC. ADC duties are covered by the CIRRUS LOGIC CS5361 24-bit/192kHz converter with Multi-bit architecture at 114dB dynamic range. It also features optical, coaxial and a pair of line-level inputs for whatever home entertainment devices you're using. The Esprit also carries both analog and optical outputs (Optical output for USB source only: Optical S/PDIF output signal via USB playback only. The S/PDIF signal output will support digital surround multi-channel formats such as AC3/DTS Decoder). Completely control an analog, digital or computer-based system with superior sound while recording vinyl or any other analog or digital source to hard disk! The exceptional headphone amplifier drives 16 to 600 ohm 'phones with aplomb.
The sound is vivid, captivating, palpable and unheard of in this price category. The ADL Esprit brings Furutech's signature smooth, detailed clarity to high-resolution 24-bit/96kHz files and 16-bit/44.1kHz files sound better and more satisfying!
Specification
ㆍUSB/Analog Playback/Multimedia Recording
ㆍConnectivity: USB-B Interface, analog input/output on RCA jacks, optical Toslink input and coaxial
ㆍinput RCA connectors, output Toslink connector (USB output only)
ㆍUSB Playback Resolution 24-bit/96kHz (Max)
ㆍUSB Recording Resolution: 16-to-24 bits, Sampling Rate: 32/44.1/48/96kHz
ㆍCoaxial and Optical Playback Resolution: 24-bit/192KHz (Max)
ㆍFrequency response: 20Hz ~ 20kHz (±0.5 dB)
ㆍS/N ratio: -95dB (A-wtd) / Line Output
ㆍMax. Line Output Level: 7.5 VRMS (THD <1%) Line Output impedance : 100 ohms
ㆍTHD: Line Input < 0.01% , Digital Input <0.05%
ㆍHeadphone Max. Output Level: 1% THD 1kHz, 156mW (16 ohms), 224mW (32 ohms), 241mW (56 ohms), 130mW (300 ohms), 76mW (600 ohms)
ㆍPower supply-1: 5V DC from USB bus-powered USB chip - optical output only
ㆍPower supply-2: ErP Step2 Compliant, 2-wire AC, Class II, AC/DC Switching Adaptor
ㆍDC 15V / 0.8A / 12W
ㆍDimensions: 150mm / 6" (w) x 141mm / 5.5" (d) x 57mm / 2.25" (h)
ㆍWeight: ~ 970g / 2.14lbs